SLSC2019 Conference Speakers Page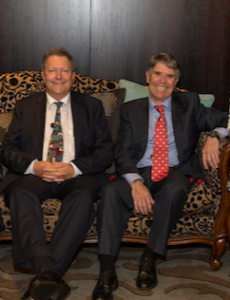 Welcome to the Speakers Page for the 4th International Street Lighting and Smart Controls Conference to get Smart City Ready!
Bryan King and Godfrey Bridger really appreciate that you are willing to present and look forward to meeting you at the conference.  This page is to assist you to make your visit and presentation the best it can be.
SLSC 2019 Sydney – Speakers V21
This is a minute-by-minute programme to assist you to time your presentation precisely to the spot available.  As we have a very full programme, please keep within the time specified for your presentation.
---
SLSC 2019 PowerPoint Template v3.0
Please use the Powerpoint template downloaded from the link above and send a draft to either Bryan King or Godfrey Bridger as we will then make tactful suggestions about how to maximise the positive impact on your audience.
---
Managing the Environmental and Health Effects of Public Lighting V23
This is work-in-progress but provides those speakers new to the Australian and New Zealand road lighting market with information on which to brief themselves for the conference audience.
---
4220 SLSC Programme Roadmap – FINAL – 161216
This Roadmap provides speakers with a strategic overview of Australia's road lighting and its potential to improve livelihoods. It was published in the last few days of 2016.  It was commissioned by the Australian Government and formed the core of the public-private partnership programme called Street Lighting and Smart Controls (SLSC)
---
Location Map of Conference Venue: International Conference Centre, 14 Darling Drive, Sydney
---
---
Previous Road Lighting Conferences
Road Lighting 2014: Innovation • Efficiency • ŸSafety

The inaugural Australasian conference and exhibition for road lighting professionals and road lighting authorities, Road Lighting 2014: Innovation • Efficiency • ŸSafety, was held in March 2014 at the Langham Hotel in Auckland, New Zealand.  RL2014 attracted an international audience and wide media interest. It was also won the 'Special Event' category at the 2014 Public Relations Institute of NZ Awards for conference organiser Strategic Partners Ltd.
---
Road Lighting 2015: Smart City Investment was the successful follow-up to RL2014 that highlighted international best-practice in LED road lighting and was a platform for the Minister of Transport and Energy and Resources, Simon Bridges, to announce an accelerated funding programme for LED road lighting through the New Zealand Transport Agency. The accompanying exhibition also offered a prime opportunity for a range of organisations to showcase their expertise and leadership for the move to LED road lighting in New Zealand and Australia.
---
3rd International Street Lighting + Smart Controls, Brisbane, March 2017, was held in partnership with the Institute of Public Works Engineering Australasia (IPWEA) to secure the future of this conference series. This conference and exhibition was a platform for IPWEA and the Australian Department of Environment and Energy to provide another tool in support of a LED street lighting rollout following the launch of the Roadmap for the Street Lighting Smart Controls (SLSC) programme.